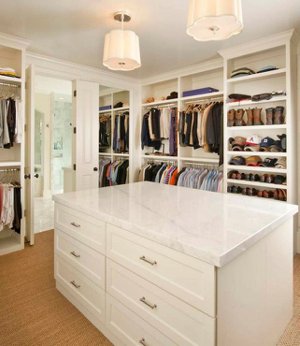 Are you considering turning your extra room into a closet?
Do you have a huge closet that needs organizing?
If you answer yes to any of those questions, then this article is for you. Here is where i'm gathering information for closet design in my own home. Maybe you will find this information useful as well.
Closet Island
I love these closet islands, and my favorite is this one, which is very pricey!
Home Styles Naples Closet Island
is only available so far from what I can find at Bed Bath and Beyond. I saw this specific island on this YouTube Site for
HighLowLuxx
and it looks fabulous. I want it, but that price is SO HIGH. Maybe I'll splurge, we shall see.
This
Century Off White Closet Island
is also very nice, however, it is WAY too expensive. I'd rather have a custom design than spend $2000 on a pre-fab closet island.
Dream Closet Shelving
You can create a dream closet on a budget with Ikea Jax Shelving, and there are also some options on Amazon. Of course, a true Dream Closet is custom, and requires a custom mill worker to build the space to its full potential and your wildest dreams.
Dream Closet Lighting
Dream Closet Flooring
Dream Closet Mirror
Dream Closet Seating